AEDs & CPR/AED Training

The Facts
Sudden cardiac arrest is one of the leading causes of death in the U.S. Over 350,000 people will suffer from sudden cardiac arrest this year . It can happen to anyone, anytime, anywhere and at any age. An AED is the only effective treatment for restoring a regular heart rhythm during sudden cardiac arrest and  is an easy to operate tool for someone with no medical background. Safety First is pleased to be able to offer AEDs for purchase and also can assist with any grant funds that may be available for nonprofit organizations and churches.
Time is of the essence:
The average response time for first responders once 911 is called is 8-12 minutes.
For each minute defibrillation is delayed, the chance of survival is reduced approximately 10%.
What is an AED?
AED stands for Automated External Defibrillator.
It is a medical device that analyzes the heart's rhythm.
If necessary, it delivers an electrical shock, known as defibrillation, which helps the heart re-establish an effective rhythm.
There is Liability protection for rescuers and providers of AEDs:
 Federal Cardiac Arrest Survival Act (2000)
 All 50 U.S. states and DC have specific AED laws and regulations limiting liability
Safety First Sells HeartSine AED Technology
About HeartSine® Inventor. Innovator. Lifesaver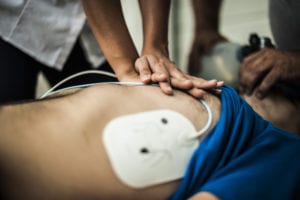 You can't choose when Sudden Cardiac Arrest will strike, but you can be prepared. Sudden Cardiac Arrest can happen to anyone, anywhere, at any time. When it happens, HeartSine's AED technology can help make the difference between life and death. Just ask. Leading corporations, organizations and industry experts agree: HeartSine has a comprehensive offering and benefits that deserve serious consideration when selecting a partner to supply lifesaving AED technology. HearstSine is committed to providing innovative, intelligent, lifesaving solutions for the assessment and prevention of sudden cardiac death. Safety First is proud to be a HeartSine AED Distributor.  Safety First believes in the HeartSine Difference. Here's how HeartSine's leading AED technology differs from the technologies used by other AED manufacturers:
Superior Design and Technology. HeartSine offers advantages that are superior to those devices still using technology from more than a decade ago. This translates into superior value.
Superior Protection. With a standard 10-year product warranty, the samaritan® PAD is the best backed AED technology on the market today. This protection is 3-5 years longer than industry standards and solidifies our commitment to providing you with excellent protection. That translates into comfort and security. The samaritan PADs have a rating of IP56, providing the highest level of moisture and dust ingress protection in the industry.
Clinically Advanced. Samaritan PADs use proprietary electrode technology, advanced and stable firmware, and proprietary SCOPE™ Biphasic technology (an escalating and low-energy waveform that automatically adjusts for patient impedance differences) to assess rhythm and recommend defibrillation if necessary.
User Friendly Components. Our innovative Pad-Pak™ cartridge houses both the battery and electrodes for the device. One expiration date eliminates the need to track and inventory two separate items and reduces the costs associated with doing so. Complimentary software upgrades are available for user download from our website and the Samaritan PAD offers user-selectable language options to provide adaptability across multiple site applications.
Lowest Overall Costs of Ownership. The extended-life Pad-Pak and standard warranty mean lower operating cost during the life of the device. One "wear item" means less inventory and lower maintenance costs. Each Pad-Pak is good for 4 years, providing lower costs than devices that need the electrodes replaced every 2 years and the battery every 4 years.
Comprehensive Indemnification. The HeartSine protection is second to none in the industry in providing comprehensive coverage to lay rescuers. This point is often disregarded by other manufacturers due to the restrictions and conditions of protection. The HeartSine Indemnification Policy is further validation of our commitment to quality and to providing a device that can be used by rescuers of varied skill levels.
Advanced technology balanced against the demands of real-world use. HeartSine innovation changes lives and saves lives. It's lifesaving, pure and simple.
Contact us today to get more information or to schedule a free consultation to discuss your needs and get more information about our HeartSine Lifesaving AED Technology.
Purchase A HeartSine AED
Contact us today to get more information or to schedule a free consultation to discus your needs and get more information about our HeartSine Lifesaving AED Technology.
Safety First sells HeartSine several hundred dollars less than our competition! Contact us today for a price quote. We also can direct not-for-profit organizations toward a fantastic AED grant program.
Whether you're a business owner, school administrator,church leader or a family member with serious medical concerns, we can help you get the best AED for the least amount of money.  We aren't even allowed to advertise our price on our website, per our agreement with Heartsine, because it's substantially lower than most others around.  Please contact us to get your questions answered, get a quote and/or schedule your demonstration.  We'd love to help you out!