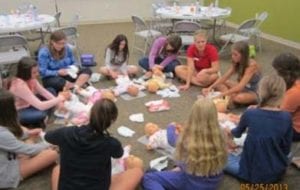 Safety First FAQ
 How long is my American Safety and Health Institute Certification good for?
Our Community CPR, CPR Pro, Basic First Aid and Child & Babysitting Safety certifications are valid for two years. Bloodborne Pathogens is valid for one year.

Will I receive a certification card at the end of the class?
Yes, everyone who completes the class will receive their certification card.
Do you provide on-site training?  
Yes, we are happy to come to your site at no extra charge if you have four or more participants.
How long does the class take to complete?
Our Community CPR/AED is 3 hours.  Basic First Aid is 2.5-3 hours. Bloodborne Pathogens is 1 hour.  Child & Babysitting Safety is 5 hours.
Note: We also offer a Blended Learning option most courses, which includes an online course that students complete prior to class.  With this option, the classroom time is cut in half or more.
How can I register for one of Safety First Jacksonville's training courses?
You can register for any upcoming class on our Calendar page.  Click on the course you want to take and you will be directed to our online registration page.
Do I have to pre-register for the safety training course? 
Yes, if you want to attend one of our scheduled courses you must register ahead of time.  We don't take walk-ins.
Can I pay for the safety training class with cash or a money order? 
No, not unless there is a rare exception and it is prearranged with us.  Since we require pre-registration online, you must pay via credit card online.
How do I know if the training class is full? 
If the safety training course is full, the registration page will indicate that it is sold out.
Will I have fun in the class?
Yes!  We keep our classes very hands-on and with a dose of humor. Learning should be fun!
What will my certification card look like?
Your card will be an official card from the American Safety & Health Institute. Note: There are a couple of medical agencies that will only accept American Heart Association certification. If you are becoming certified for a Nursing program or other medical-related reason, please check to make sure they will accept certification by the American Safety & Health Institute.
What types of safety training classes do you offer?
Safety First Jacksonville offers classes for Community CPR/AED (Infant, Child & Adult), CPR Pro (Basic Life Support for the medical provider), Bloodborne Pathogens, Basic First Aid, Child & Babysitting Safety and Women's Safety & Self-Defense. Please check our Class Calendar for the latest list of courses and to register.
Where are  your classes held? 
We partner with various local businesses around town.  We often hold classes at other locations as opportunities arise and our class locations can always be found on our website next to the course date.  We will also come to your location for a private class if you have at least four participants.

Do I have to buy a textbook for the class? 
No. We will provide a textbook to use during class and then when you get your certification card, there will be a link on the back of the card that provides you with an online copy of the textbook that you can download for your convenience.
Which hours and days can I schedule a class at my location? 
We are flexible, pending instructor availability. Inquire with us at [email protected] and we'll do our best to work out a date and time that works well for you.
What do I need to bring to class?
We basically provide everything. Feel free to bring a snack or meal if needed, depending on the time of day of the class.  Wear comfortable clothes that you can move in.
If you have any other questions please contact us. We are happy to work with you to the best of our ability to answer your questions and meet your needs.

Safety First Is Your First Choice For Instruction
Your first resource for quality safety courses and instruction, AEDs and summer swim lessons.
Call us no matter what your safety learning needs are, we are always happy to answer questions and assist you in any way that we can.
You will find answers to may of our most common questions in the FAQ section below. Feel free to contact us if you need further assistance.
Become a Lifesaver!
Safety First CPR & First Aid
Call: 904.434.6032